Sales & Support:
(514) 909-3323
e-mail
:
Learn the most popular keywords people are using in their queries. more »
Learn which keywords and phrases generate the most traffic volume. more »
Sign-up now for your free listing in Google's directory. more »



More and more companies are using search engines to find goods and services because it's faster, more accurate and more efficient. That is why a search engine optimization (SEO) service is crucial to your business.
There are many SEO Companies in Montreal, so it is important to choose the right one that has a proven record and can offer you an end-to-end solution. Our years of experience and proven track record can help you reach your business targets. The SEO services that we provide are deeply intergrated into the site architecture and design as opposed to a superficial cosmetic approach.
We also offer Pay-per-click marketing services such as Google Adwords management, we're Google Certified and can help you properly craft your campaign research keywords, setup goal conversions, run tests and experiements, measure and optimize your site to help maximize your return on investment. This can compliment your search engine optimization efforts for a very powerful SEO/SEM combination.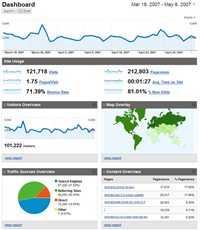 Certifications
: